Cross Stitch
Designs
are always
being produced
to provide you
with many hours
of stitching
pleasure.

Copyright 2007 / 2008 / 2009 Susan Saltzgiver Designs

Copyrighted material (images, text) may not be reproduced by any means.
They are protected by copyright laws and to do so is prosecutable by law.


Last updated 2/25/11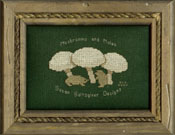 If your shop should be added to the list, or if changes need to be made to any listings,
please use the "Contact Us" page and give the information to be added / changed.

When we stitch we are
like mushrooms and moles -
we are "hidden away"

Listed alphabetically below are links to sources of materials used in the designs:

AUSTRALIA

UNITED KINGDOM
Blackbird Crafts
Colne, UK
jankev@crazy10.freeserve.co.uk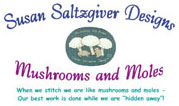 Singapore