New Counted Cross Stitch Designs are always being produced
to provide you with many hours of stitching pleasure.

Cross stitch charts are not sold directly from my
website to retail customers.
Links are provided on the detail pages (click on
Designs as downloads from online distributors.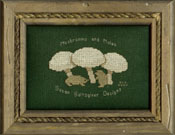 When we stitch we are like
mushrooms and moles -
Our best work is done
while we are "hidden away".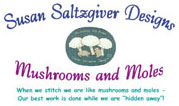 Your support by carrying my designs is appreciated. Inquiries
by retail needlework stores about carrying my designs are
encouraged. A wholesale price list is available upon request.

Charts are available by PayPal or Money Order (in USD).
To order charts, send an e-mail with the identifying # and the
chart name.

PayPal payment is to be sent to: busygramma1@comcast.net

Money Orders - address will be provided when order placed.

Orders are shipped ASAP (immediately if possible) after
notification of PayPal payment or receipt of Money Order.

TO REGISTER YOUR SHOP - Send through this link:

Sue@SusanSaltzgiverDesigns.com

1. Name of applicant__________________________________
2. Name and address of store_____________________________
__________________________________
__________________________________
3. Tax ID/ Resale Number_____________________________
4. Web address______________________________________
5. E-mail address_____________________________________
6. Phone_____________________Fax_____________________

Copyrighted material (images, text)
may not be reproduced by any means.
They are protected by copyright laws
and to do so is prosecutable by law.

Last updated 9/3/2011