Copyright 2007 Susan Saltzgiver Designs

Copyrighted material (images, text) may not be reproduced by any means.
They are protected by copyright laws and to do so is prosecutable by law.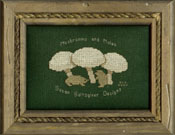 When we stitch we are
like mushrooms and moles -
Our best work is done
while we are "hidden away".

3 of the colors used in "Praise God"
do not appear on the charts.
They should appear as follows:

Even with extremely careful, repeated proofing,
and although it rarely occurs, mistakes can slip through.

Susan Saltzgiver Designs, Mushrooms and Moles,
will provide all corrections here
as soon as I am aware that they exist.

| | | |
| --- | --- | --- |
| - | 3770 | Tawny-VY LT |
| < | 3774 | Desert Sand-VY LT |
| w | 3779 | Terra Cotta-UL VY LT |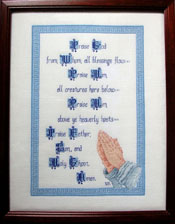 This chart has been corrected, however, charts that are already in shops may
need this change. Charts were sent to Hoffman Distributing to supply the
shops before the need for a change was known.

3779 is a heart.